Clemco BNP 250 Wetblast Suction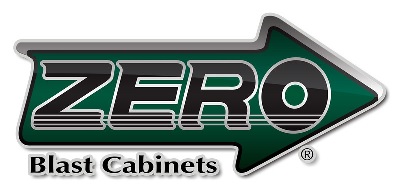 ZERO BNP 250 Wetblast cabinets deliver affordable, dust-free media blasting to efficiently clean and finish all kinds of parts. The wetblast process produces a smooth surface, a bright shine, and does not produce static electricity common in dry blast operations.
BNP 250 Wetblast Cabinets feature: Safety
Dust-free wetblasting reduces worker exposure to dust and static electricity build-up generated by dry blasting.
Full-length waterproof neoprene-on-fabric gloves.
Safety interlocks interrupt blasting if either door is opened.
Double-wall, sound-insulated doors reduce noise.
Productivity
Fluorescent lighting brightly illuminates work chamber.
Generous 12.5″ by 19.5″ window gives operator commanding view.
150-cfm exhauster maximizes visibility inside cabinet.
Operator-controlled domestic-water wash system maintains clean window for clear view of work.
Foot pedal activates blast process and minimizes operator fatigue.
Fingertip-activated rinsing control speeds work flow.
Performance
14-gauge stainless steel cabinet and grating provide rust-free blasting environment.
Pressure regulator with gauge is within easy reach on light module. Toggle switches activate lighting, exhauster, and
diaphragm pump.
Diaphragm pump ensures ready supply of media/water to maintain efficient work flow.
Adjustable, heavy-duty chrome latches seal doors tight through years of service.